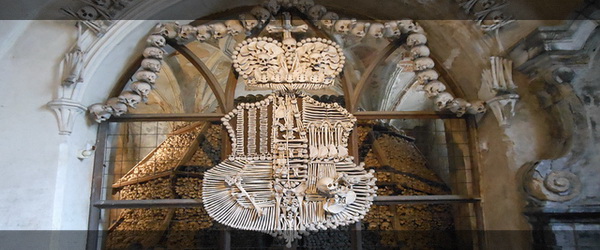 On this page you will find some usefull information about the Sedlec Ossuary location, including a map, as well as ticket prices and the opening hours info. Enjoy your visit at Kutna Hora!
Sedlec Ossuary Location:
The Sedlec Ossuary is located in the suburbs of the medieval town of Kutná Hora. Kutná Hora is located at about 70 km distance from Prague, the capital of Czech Republic, where you will most probably come from.
Plan Your Visit:
Accomodation:
If you plan to visit Sedlec Ossuary, use this links to find a hotel during your stay:
→ Kutná Hora Hotels
→ Prague Hotels
To reach Kutná Hora from Prague, you will have to take a train journey of about 1 hour.
Kutna Hora is not that big, so you will most probably walk there by foot. It is interesting to know that while the modern Kutná Hora is small in size and population, it once was the second largest city in the Czech Republic, as there was a big silver mine during medieval times.
Sedlec Ossuary Tour Info:
Opening Hours:
The Church of Bones is opened during the following hours:
→ Between April and September: from 8:00 to 18:00
→ In October and March: from 9:00 to 17:00
→ Between November and February: from 9:00 to 12:00 and from 13:00 to 16:00.
→ The Ossuary is closed on Christmas.
Entrance Fee:
The entrance fee to the Sedlec Ossuary is a modest one. For adults it is 90 Czech Koronas (about $3.50 or 3.2 euros). For students and children the entrance fee is even smaller: 60 CZK.
Visitor Information Office:
Sedlec Ossuary Address:
Starosedlecká, 284 03 Kutná Hora, Czech Republic
Tel: +420 326 551 049
Email: ic@sedlec.info
Sedlec Ossuary Souvenirs:
If you want to bring home some souvenirs, you can buy a skull model (this time made of plaster) for around 400 Koronas, as well as postcards, key rings etc.
Sedlec Ossuary Map: